How to Make New Friends at an American Campus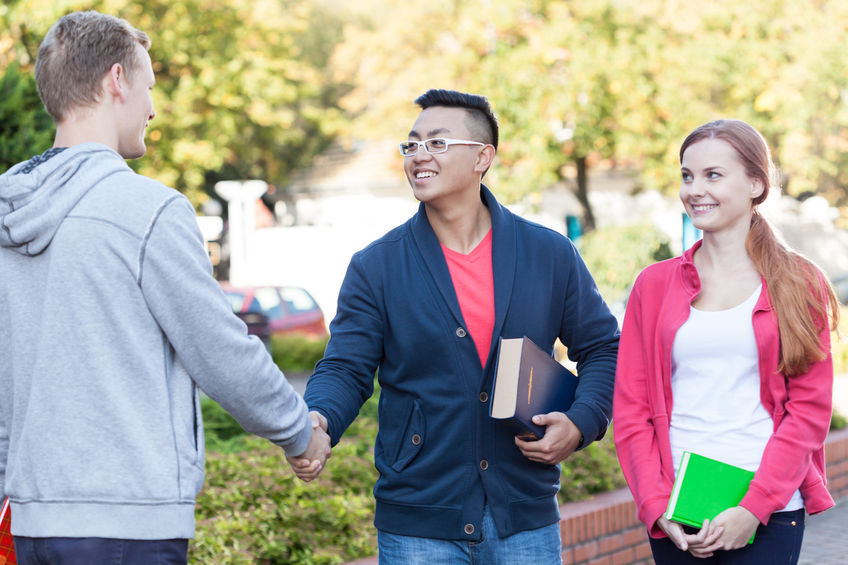 The United States is the world's leading higher-education destination, but no matter where you're from, fitting in at college can be difficult. For the newcomer, America can be a lonely place at first. Even though college is an ideal place to make new friends, international students often struggle to bond with American students.
In fact, The Journal of International and Intercultural Communication found that approximately 40% of foreign exchange students had no close American friends at all. This was especially true for students from East Asian countries and non-English-speaking countries.  Furthermore, the study found variation and reported that friendship numbers and satisfaction levels were highest in the South, whereas the New York City metropolitan area was ranked the lowest.
Having a language barrier or being shy are the top reasons foreign students find it difficult to make intercultural friendships. Even though making new friends may seem intimidating, it shouldn't be. So, if you're struggling, here are a few tips on how to make friends in your American campus.
Be Yourself
You're from a different country with a different culture.  Don't be embarrassed about being different. While your habits may sometimes appear strange, Americans value the display of true personality, opinions, and unique interests. Too often, international students hold back their true personalities since they lack confidence when speaking English. However, Americans won't judge you on what you say, but instead how you act. Therefore, it's very important to be yourself. Laugh, smile, be happy, and be different.
'Break the Ice'
The definition of this phrase is "to do or say something that makes people feel less shy or nervous in a social situation." Try to get out and meet new people and make new friends. That's the best way to improve your English and experience American culture. Americans value people taking the lead, so introduce yourself to students in your classes as an international student getting to know the culture. Ask questions instead of waiting for them to offer information, and suggest to study or work on a project together.
Get Involved
What do you love doing? What are your hobbies? The best and most efficient way to bond with people is through group activities. America's university campuses offer a large collection of interest and activity groups, organizations, clubs, and sports teams. These are great opportunities to meet others who share your interests. You will be surrounded by like-minded people which will make it easier to bond.
You should also visit your campus Multicultural resources and/or International Student Unions. They are always welcoming and looking for help. Get to know other international students, as they will likely introduce you to the friends they have made on campus too.
Overcome the Language Barrier
If English is your second language, it can make bonding with new friends seem more difficult. Remember, the more speak and practice, the better your English and confidence will get. If you don't understand what someone is saying or if they are speaking too fast, ask them to speak slowly and repeat themselves.
Understand Body Language
Although Americans are generally friendly and open, keep in mind that they usually have larger personal space boundaries than people from other cultures. If you notice people backing up a little while talking to you, don't step toward them as they most likely feel uncomfortable with the lack of distance between you.
The most common form of greeting between acquaintances in the US is a hand shake. If you get to know someone well enough, a hand shake can sometimes turn into a hug or brief pat on the back or shoulder.
If you attend a campus sporting event, don't sit quietly off to yourself. Wear clothes showing your school pride and have a good time. Hold up your hands and offer high fives to others around you when the crowd cheers.
Don't Give Up
While Americans are usually friendly, making meaningful friendships can be difficult. Be patient, be open minded and be confident!
Thinking of studying in USA? Find out what are the top schools for international students.
The information provided on this blog is for informational purposes only. It is intended to provide opinions and educational information. It is not intended as individual advice and should not be taken as substitute for professional advice. We assume no responsibility for errors or mistakes. In no event is ScholarshipOwl or the individual authors liable for any special, direct, indirect, consequential, or incidental damages, arising out of or in connection with the use the Service or information provided. We reserve the right to make deletions, additions, or modifications to the content at any given time without prior notice. We may link to third party websites. In some cases we may be compensated on an affiliate basis when users take certain actions. In order to comply with FTC guidelines we want to be transparent that ScholarshipOwl may get compensated by companies and/or partners based on an affiliate or advertiser partnership. We might get compensated for example for mentioning partners, by you, the user, making a clicking, purchasing, or signing up for a product or service through a tracking link. In no way are we responsible for the accuracy, relevance, timeliness, or completeness of any information on these external websites.