Private Scholarships – Everything You Need to Know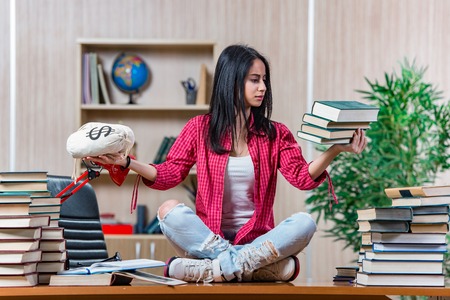 Private scholarships can drastically reduce the cost of your education, and there are new ones available all throughout the year. No matter how old you are, what school you attend, or what your major is, you can benefit from applying for private scholarships. Here are some tips to help you on your journey.
What Are Private Scholarships?
Private scholarships are financial aid awards funded by companies, service groups, foundations, organizations and individuals. They range greatly in value, and they are typically tailored to the issuing organization. For instance, a museum may offer a scholarship for students pursuing art history. A bank may issue scholarships for finance majors. You can find private scholarships for just about any purpose or situation as long as you know where to look.
Are Private Scholarships Better Than Institutional Scholarships?
Awards issued by colleges and universities are known as institutional scholarships. These tend to cover a broader pool of students, like "first year freshmen" or anyone with a business-related major. Institutional scholarships can be for specific students, just like private scholarships can be versatile enough for all students. Thus you should look into both options when you search for financial aid.
Private scholarships are not better or worse than institutional scholarships. They're just different. You should look for awards that can help you pay for college, regardless of their origins. Your school's financial aid office will be a great resource for institutional scholarships, and scholarship matching sites like ScholarshipOwl are great resources for private scholarships. Use all the tools available to you to minimize your out of pocket expenses.
How Much Are Private Scholarships?
Some private scholarships are $100, $250, $500, etc. Others are valued in the thousands. It all depends on how much money the organization providing the scholarship has available that year. It also depends on how many awards they plan to issue. Some organizations will split their available funds among several students to broaden their impact.
As we will point out in the Top Tips section below, you should not disregard private scholarships of low values. In fact, those awards are often easier to obtain than top-dollar scholarships because there is less competition for them. It may take a little extra work to apply for multiple low-value scholarships, but they will add up in the end. Doing this will also increase your chances of receiving financial aid, rather than putting all your hope into one or two big awards.
Can You Get a Full-Ride Private Scholarship?
Full ride private scholarships are rare, but they do exist. The cost of attendance changes greatly between schools, so it is hard to estimate how much a full ride scholarship is going to cost. Most private organizations have limited funds for scholarships, so they cannot offer an open-ended figure like that. On the other hand, institutions know exactly what the average cost of attendance is for their schools, so they can budget accordingly when they offer full ride scholarships.
Top Tips for Private Scholarship Applications
Here are some helpful tips for finding and filling out private scholarship applications:
Seek out scholarships that no one else is applying to.

Most students will only apply for scholarships that are worth $1,000 or more, but those awards have a lot more applicants than the low-value scholarships. If you have less competition, you increase your chances of earning the award.

Consider art and writing competitions that act as private scholarships.

Applying for a private scholarship may require more than just a basic document with your resume attached. Some awards are set up like contests, such as a photography contest or writing competition. Tap into your creative side, and you may find some unique and unexpected opportunities.

Look for local scholarships.

Online resources are fantastic for finding financial aid, but they may not have access to the private scholarships in your area. Check with your school's financial aid department for local scholarships that may not be heavily advertised. Once again, you will have less competition to fight through during your applications.

Volunteer to improve your chances of winning.

Private organizations that offer scholarships like to see students contributing to their communities. Find a charity, activity or group that you're passionate about, and volunteer with them as long as possible. This will look better than having a list of one-time volunteer efforts on your application. If you can work with an organization that ties into your prospective career, that's even better!

Constantly search for private scholarship opportunities.

Institutional scholarships usually come up twice a year, shortly before a new semester starts. Private scholarships can come out at any time though. If you're always on the hunt for a new award, you will have the best shot at getting a full ride.
Reasons You May NOT Want to Accept a Private Scholarship
Before you accept a private scholarship, you need to make sure it will not affect your existing financial aid opportunities. Accepting the scholarship may reduce your financial need, which could lower the value of grants and scholarships you have already earned. This is not to say that you should turn down all private scholarships, but you need to understand your school's policies regarding outside financial aid opportunities. If the scholarship is going to reduce the money available to you, you need to make sure it will only lower your loan values, not your grant money.
Do You Have to Repay Private Scholarships?
No, you do not have to repay private scholarships. If you receive a recurring scholarship, you will need to fulfill certain requirements in order to maintain the award for the coming years. The scholarship rules will outline a minimum GPA or minimum number of credit hours you must complete, and it may also specify certain courses you have to take for your degree. Since every private scholarship is different, you will need to research the award you've been given to understand the rules surrounding it.
Private Scholarships vs. Private Loans
Do not confuse private scholarships with private loans. If an award is labeled as a scholarship, it should not have any repayment obligations. A private student loan, on the other hand, will have to be repaid in full, including the interest you agree to in the terms of the loan. Private loans are typically issued based on credit worthiness, but private scholarships are issued based on academic merit and financial need. Apply for as many scholarships as possible to avoid having to pay for your education.