Visual, Fine, and Craft Artist Careers
The term 'visual artist' is a broad term that refers to individuals employed as animation, fine or multimedia artists and graphic designers, among other professionals. Continue reading to learn more about education career outlook and salary potential for visual artists.
Do visual Art Careers Pay?
Based on a US Bureau of Statistics survey (2010-11), full time work as an Art Director definitely pays. As recent as 2008, median annual wages for salaried Art Directors reached a high of $77,000. Moreover, for salaried fine artists (including painters, sculptors and illustrators), median annual wages were lower at $43,000. Relatively speaking, however, craft artist median salaries were the lowest at $29,000. What about for related jobs where Visual Art represents as a job skill (See Chart below)?
For Animators and Multi-Media Artists, medium annual wages were $56,000. Interestingly, the US Bureau survey was inconclusive for the self-employed artist, where annual earnings for this group were shown to vary widely. So, in short, for a Visual Art Graduate, it pays to be the boss and/or to apply your skills in a broader context. However, if you plan to be your own boss, then fulfill your education
requirements and do your job because you love it!
Practicing Visual Art: As a Profession or as a Job Skill?
Graduating with a Visual Art degree broadens your options for finding long-term, progressive employment. Simply speaking, you can apply your skills to many disciplines. However, it can be a matter of focus. The following table depicts professional and related jobs that are suitable for the Virtual Art Graduate.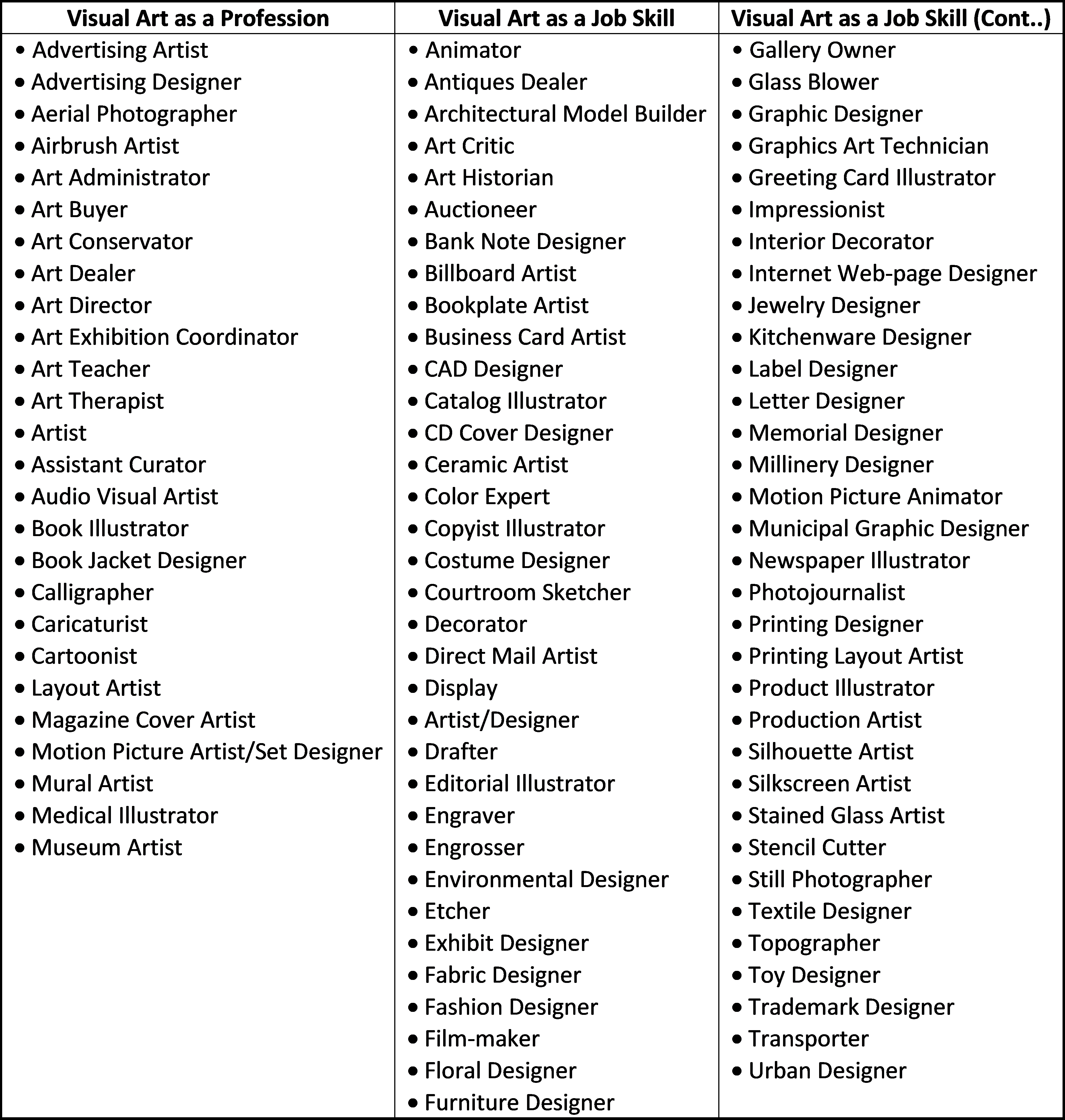 Visual Art is in Demand
According to the 2010 Bureau of Labor Statistics survey, competition for jobs was expected to be strong for both salaried and freelance opportunities in all art specialties, since (at that time) interest in a Visual Art career was expected to exceed the number of available openings. Today, we can presume the status quo has remained the same. However, when viewed in the context of applying Visual Art either as a profession or as a job skill (for a related profession), Visual Art graduates can feel confident of finding meaningful employment growth and work environment.